Do you own an apartment or multi-housing complex? Then you know how important it is to keep each unit occupied. With the right renovations, apartment remodeling can keep tenants coming to your complex and staying longer. At BMM, we are the experts in apartment remodeling and contract maintenance for the Twin Cities and are here to help draw new tenants. We know what people look for in a living space and can help you make the changes that will bring your units up-to-date.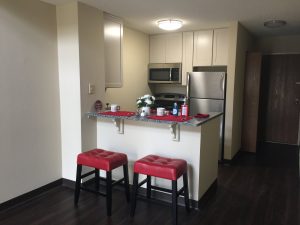 Our services range from lighting retrofits and carpentry to preventative maintenance, apartment remodeling, cleaning, dayporter services and more. Whatever the reason, whatever the service; we are here to help when you need us. And, as the area experts; we have put together some of the top trends in apartment renovations that can get you the best return on your investment.
Updated Your Flooring
Flooring is a major consideration for many renters and is one of the first things people notice when looking at an empty unit., But it can also be tricky knowing what the best option in flooring will be. The main debate is hardwood or plank vinyl versus carpet. Carpet often needs to be replaced after every couple of renters due to stains, wear and dirt. This can get expensive.
Most renters actually prefer a hardwood-type floor that seems cleaner and more modern. You can even go for a mix with carpet in the bedrooms and other flooring throughout the rest of the unit. Wide plank floors are currently the most popular remodeling option.
Replace Bathroom & Kitchen Fixtures
This is one of the best ways to update the look of a rental unit quickly and easily. High quality, energy efficient light fixtures, ceiling fans, faucets and door handles will be noticed by potential tenants. Having higher quality fixtures will also provide better durability and lower energy costs. These are simple things to fix that do make an impression.
New Countertops
Old linoleum in the kitchen? This is one of the fastest ways to lose a potential renter. One of the most important things to renters, whether they know it or not, is the look and condition of the kitchen and bathroom countertops. Go with quartz or granite for instant appeal. Or, if you're looking for a more budget-friendly option like solid surface of new laminate. Nowadays, even laminate countertops can be made to look like high-end materials, and they are much cheaper to replace if damaged.
Appliances & More
Some other major areas to consider are the appliances and cabinetry. Many renters want modern cabinets in the kitchen as well as energy-efficient appliances that look great as well as cut down on their energy bills. Not to mention, old, mismatched appliances will not get you top dollar in rent and they can lead to more hassle down the road with constant maintenance calls.
These are just some of the areas BMM can help with! Allow us to upgrade and renovate your apartment or multi-unit housing facility! Are you interested in learning more about renovations, contract maintenance and more for your Twin City business? Give BMM a call at 763-541-4886 or Contact Us.