Emergency Maintenance Minnetonka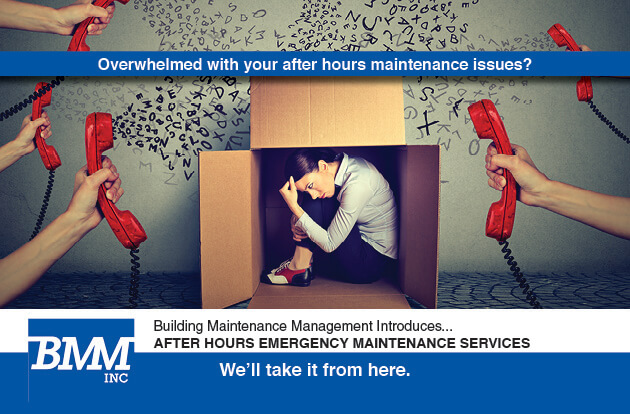 Do you have someone who can take care of your buildings' emergencies 24/7? Do you have a dependable plan in place in case a middle-of-the-night issue or emergency arrises? If the answer is no, it is essential to get set up with a well-established service you can trust. This is especially true if your maintenance department is off on these hours; you need to have a place to turn. At Building Maintenance Management, we offer dependable emergency maintenance for Minnetonka and the surrounding areas and can be there whenever you need us.
When it comes to multi-housing properties and office buildings alike, they no doubt require constant maintenance. No matter how you try to prevent problems, it is inevitable that an emergency issue will arise during the night or on a weekend. Maintenance technicians have a challenging job and often need to be on-call 24/7 to handle any problems. But with emergency maintenance from BMM, your maintenance crew can maintain normal hours while we take care of the rest. By hiring our emergency maintenance service, your own maintenance staff can work during their scheduled hours, but when they go home for the evening or weekend, they don't have to be on-call for emergencies. Backed up sewage? Broken pipe? BMM can be there in the middle of the night to tend to the issue.
Interested in learning more about how our after hours maintenance services can help your business? Give us a call at BMM and we can tell you more about our contract emergency maintenance services and all we can offer you.
Emergency Maintenance Services
Looking for not just any emergency maintenance team, but an emergency maintenance team you can trust? It is important that your emergency maintenance team is dependable so that you can rest easy knowing any emergencies will be taken care of in a timely manner. With BMM, you get just that. We have decades of experience working in the property maintenance industry and our staff will communicate with the in-house maintenance crew so they will know the details of the emergency call, what was done and if there's any follow up work they need to handle.
Simply sign up and pay a monthly rate based on the number of units at the property or the size of the commercial building. You will designate what hours and days you need our services, and our maintenance technicians will be on-call during those times. Call us today to learn more, to get your questions answered and to get on our schedule.
Contact Us for Emergency Maintenance
Are you interested in getting more information about emergency maintenance for your Minnetonka area property? Please give us a call at 763-541-4886 or contact us.