As a manager of a multi-housing facility, you want to keep your units filled and avoid turnover as much as possible. Of course in multi-housing, turnover is normal, so you always need to be thinking of ways to attract new renters as well. As an apartment turnover company in the Twin Cities, Building Maintenance Management understands the need to keep your apartment units full. We can assist with numerous rehab projects to keep your units fresh, updated and ready for the next tenant. Here are some upgrades that will help you maximize your property's rental rate.
Curb Appeal
Don't underestimate the power of a first impression. Just as home buyers notice curb appeal first when looking for a house, so do renters. They want a place to live that looks clean and well-kept, not rundown and dingy. Fortunately, this is something you can update and maintain while your units are full. With basic upkeep of the building's exterior and landscaping, you will be one step forward in attracting new renters.
Appliances
Once inside the unit, typically the first thing a renter notices is the appliances. Old, mismatched appliances will not get you top dollar. They can also lead to more hassle down the road with constant maintenance calls. Investing in high quality, matching appliances with a warranty will save you money in the long run.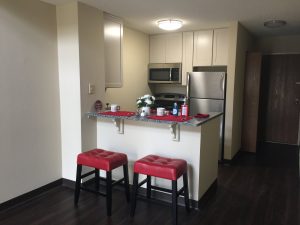 Flooring
Flooring is a major consideration for rental units, but it can be tricky as well since not everyone has the same opinion. The main debate is hardwood (or faux wood) versus carpet. Carpet often needs to be replaced after every couple of renters due to stains, wear and dirt. This can get expensive.
Some residents really like carpet, especially in their bedrooms and during the winter. On the other hand, most renters prefer a hardwood-type floor that seems cleaner and more modern. You can go for a mix with carpet in the bedrooms and other flooring throughout the rest of the unit. Flooring that definitely needs to be updated would include old vinyl or linoleum flooring in bathrooms or kitchens. This can be a major turn-off to renters.
Countertops
Upgraded countertops can really add value to your kitchen, and it will appeal to renters. However, with the cost of countertops, you'll want to know if it will be worth the investment. If you run a higher-end apartment, quartz or granite are great options. If you don't feel your rent prices warrant that type of expense, then consider solid surface or even laminate. Nowadays, laminate countertops can be made to look like high-end materials, and they are much cheaper to replace if damaged. Conversely, quartz or granite will be harder to damage and last much longer.
Fixtures
You can give your rental property a more polished look by investing in new fixtures. High quality light fixtures, ceiling fans, faucets and door handles will be noticed by potential tenants. Having higher quality fixtures will also provide better durability. These are simple things to fix that do make an impression.
The benefits of rental property upgrades go beyond appearance. Investing in better quality upgrades will help you maximize occupancy and rental rates. It will also help you stand out above other properties for rent. Quality upgrades done professionally will maximize the income on your rental investment.
BMM is here to help your property succeed. We can make these upgrades and more for your apartment or multi-housing facility. Whether done between tenants or while a unit is occupied, our Twin Cities apartment turnover company is here to help. If you would like more information on our services, give us a call at 763-541-4886 or Contact Us.